Steve's Real Food Freeze-Dried Pork
In order to provide your pets with a naturally healthy diet, Steve's Real Food sources clean, whole foods from trusted farms that are committed to the quality of foods they produce. With a focus on superfoods such as coconut oil, kelp, and seeds making each bite rich in micro-nutrients, vitamins, and enzymes. Steve's Real Food follows the biologically appropriate raw food model and use an 80:20 ratio of meat-to-produce to ensure that your pets are getting a nutritionally balanced diet that is easy to digest.
Ingredients
Pork, Pork Heart, Broccoli, Alfalfa, Carrots, Pork Liver, Apples, Romaine Lettuce, Bone Powder, Raw Goat Milk, Flaxseed, Cod Liver Oil, Taurine, Inulin, Organic Coconut Oil, Sesame Seeds, Chia Seeds, Sea Salt, Mixed Tocopherols, Dicalcium Phosphate, Eggshell Membrane
Guaranteed Analysis
Crude Protein: 51.10% Minimum
Crude Fat: 37.20% Minimum
Crude Fiber: 2.3% Maximum
Moisture: 4.2% Maximum
FEEDING
We can not stress enough how important it is to re-hydrate your freeze dried food. If you pet does not have at least 60% moisture in the food they eat the can not properly digest it. The good news is that Steve's freeze dried food is incredibly easy to rh-hydrate and feed.
STEP 1 – SCOOP
Measure the amount of freeze dried food for your dog or cat by using a measuring cup. Scoop one cup of nuggets for every 10 pounds of dog or cat. Use the chart to the right as a guide.
STEP 2 – SOAK
Add water, beef broth, goat milk, etc. on top of the food. Measure 1/3 cups of liquid for every 1 cup of food. Let the liquid absorb into the food. This usually takes around 10 minutes.
STEP 3 – SERVE
When ready, serve to your pet. Be sure to dispose of any uneaten food and wash all utensils, dishes, and surfaces that come into contact with the raw food.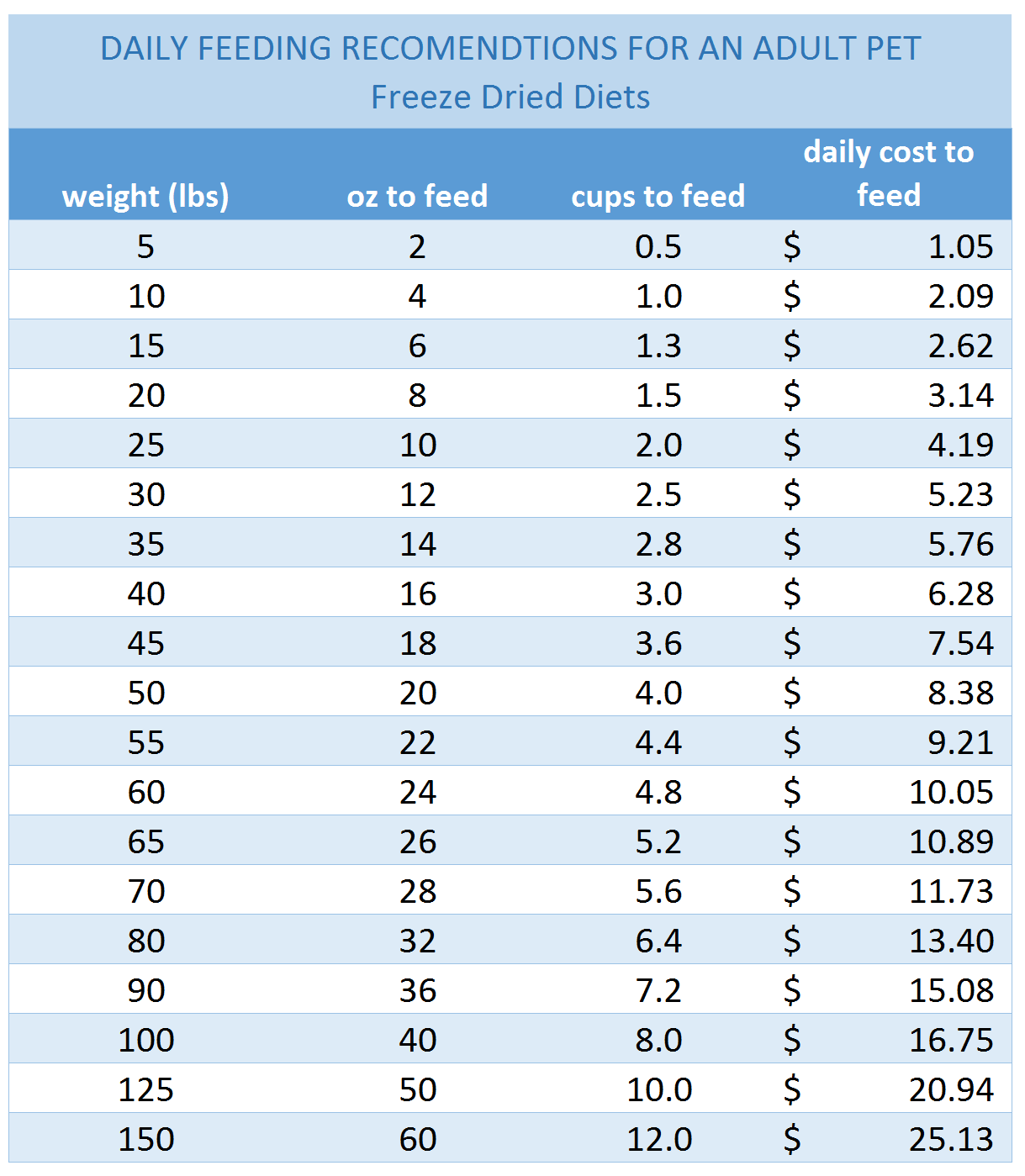 The dogs go crazy for this new food! Hydrates much faster than our previous mix we were feeding. The pork seems to be the favorite so far, but they love the other flavors as well. Thanks!