Posted on
By Feed Pet Purveyor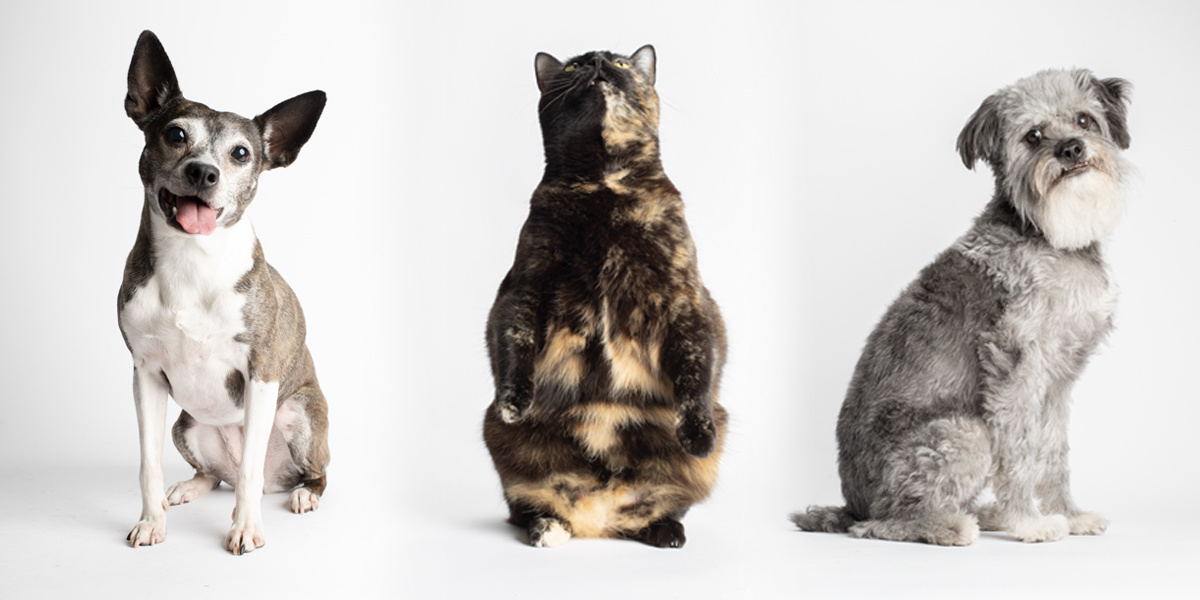 Husband and wife team, Mary and Adam Goldberg are returning for a very special photo shoot fundraiser at Feed Pet Purveyor, Saturday June 27th.
You may know AGoldPhoto for their signature gray backdrop, but for this event, they'll be rolling out a white backdrop for a more classic look. You'll also get full body photos of your pet in addition to chest up portraits.

Spots are limited for this event, so sign up early before all the spots are taken.
Visit https://agoldphoto.com/events/tampa/ for more information about this event and how to sign up for your pet's photo shoot.
Important: We'll be using studio strobe lights for this event. Those who may be affected by flashing lights may not want to attend.
FAQ
How long is each session? Each session is 30 minutes
Is pre-registration required? Yes, spots must be booked in advance
Can I be in the photo with my pet? This event is just for the pets.We do offer Private Pets and People Photo Shoots if you would like to be in the photos too.
Can my cat come? Yes! Cats who travel well and don't mind being held do the best. Cats must be brought in a carrier.
Is the session fee refundable if I can't make it? Yes, if you let us know at least 72 hours in advance
Can these photos be used commercially or in photo contests? Not without special permission from AGoldPhoto Pet Photography
What if I have multiple pets? Each pet requires their own spot, but we can use the time allotted for both spots to take photos together and separately. We can also edit photos of your pets together if necessary. Each dogs requires their own sitting fee and "Add On" package purchase as well.
What if my pet isn't cooperative? We won't force your pet to have their photo taken. If you think your pet will be nervous or scared, please consider a private pet photo shoot instead.
Will other pets be around during the photo shoot? Your pet(s) will be the only pets in the studio area. You may run into other pets shopping inside the store, but the studio area is a seperate part of the store.
The Details 
Cost
The session fee for each pet is $250 and $100 of that is donated to the shelter. Each pet requires their own session fee
3 web resolution photos meant for social media are included
Prints are available for purchase starting at $12 for a 4×6 and go up from there
High-resolution photos are available for purchase, starting at $95 for a single photo
(3) of your favorite high-resolution photos are $250
(5) of your favorite high-resolution photos are $375
After the photo shoot
Within 3 weeks of the photo shoot, you'll receive an online gallery with unedited proofs from the shoot to choose from
Once you select your favorite photos of your pet(s), we'll edit those, which may take up to 3 weeks.
Physical print orders are placed once your selected photos has been edited
About AGoldPhoto
AGoldPhoto Pet Photography is made up of husband and wife team, Mary and Adam Goldberg.
Based in Tampa, the company hosts Pet Photo Shoot Fundraisers all over the country and has raised over $194,000 for over 60 animal charities since 2016. Their story has been featured on numerous local news outlets as well as People Magazine, ABC News, Huffington Post and UpWorthy.
You can learn more about AGoldPhoto on their About Page.

A portion of all proceeds from this event will be benefiting the Humane Society of Tampa Bay