Posted on
By Feed Pet Purveyor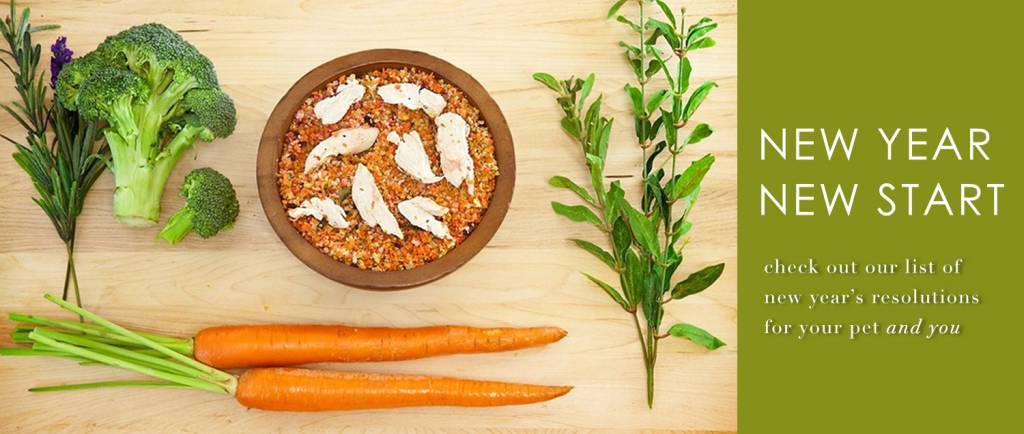 New Year's Resolutions aren't just for people. Start the new year off on the right paw with these resolutions for your pet (AND YOU!)

Start feeding your pet a fresh real food diet!
Your pet deserves the very best. Traditional baked kibble diets are often over cooked, heavily processed, low quality, mere convenience foods.  Health begins from within and feeding your pet the best possible diet of real food is the key to optimal wellness in your companion. Yes, these freeze-dried diets do take a few extra minutes of preparation. But when you compare that small extra effort to the overwhelming benefits – especially the happy, healthy, energized and grateful look in the eye of a beloved companion animal – there really isn't a comparison at all. In fact, it's a labor of love.
Try a New Activity with Your Pet:
From doga to hiking, skijoring to kayaking, it's easier than ever for people to incorporate their pet into a new exercise routine. It's a great way to bond, it'll get you both out of the house, and both owner and pet will reap the rewards of a healthy physical activity. Meet-up groups are a great way to find like-minded pet owners to join you in your exercise, too!
(More) Playtime into Your Routine 
Cats love the thrill of chasing a lure toy; just don't tell them it's exercise! Toys that trigger a cat's predatory instinct are a great way to get them off the couch and engaged in a little aerobic activity. Experiment to see what really gets your cat going — in addition to catnip toys, crinkly balls, and climbable cat trees are perennial feline favorites. Even a cardboard box can become a cat cave that satisfies a cat's desire for a hiding place!
Take Care of Those Pearly White
Daily tooth brushing is the best way to keep tartar and plaque at bay — just be sure to use a toothpaste meant for dogs and cats. Fresh real food diets and chewing antlers or o can also be a helpful tool in keeping teeth clean. Regular cleanings are the best way to keep those pearly whites in tip top shape long into your pet's senior years.
Teach an Old Dog (or cat!) a New Trick
Studies show that mental stimulation can help reduce cognitive deterioration in aging animals. In other words, keeping your senior pet's brain active can actually make it healthier! Teaching your pet new tricks and practicing those they already know are a great way to keep those neurons firing. Puzzles and interactive treat dispensing toys, which force a pet to think through a task in order to be rewarded with a treat, are also an excellent way to keep a pet's mind engaged.
Happy New Year!