Posted on
By Feed Pet Purveyor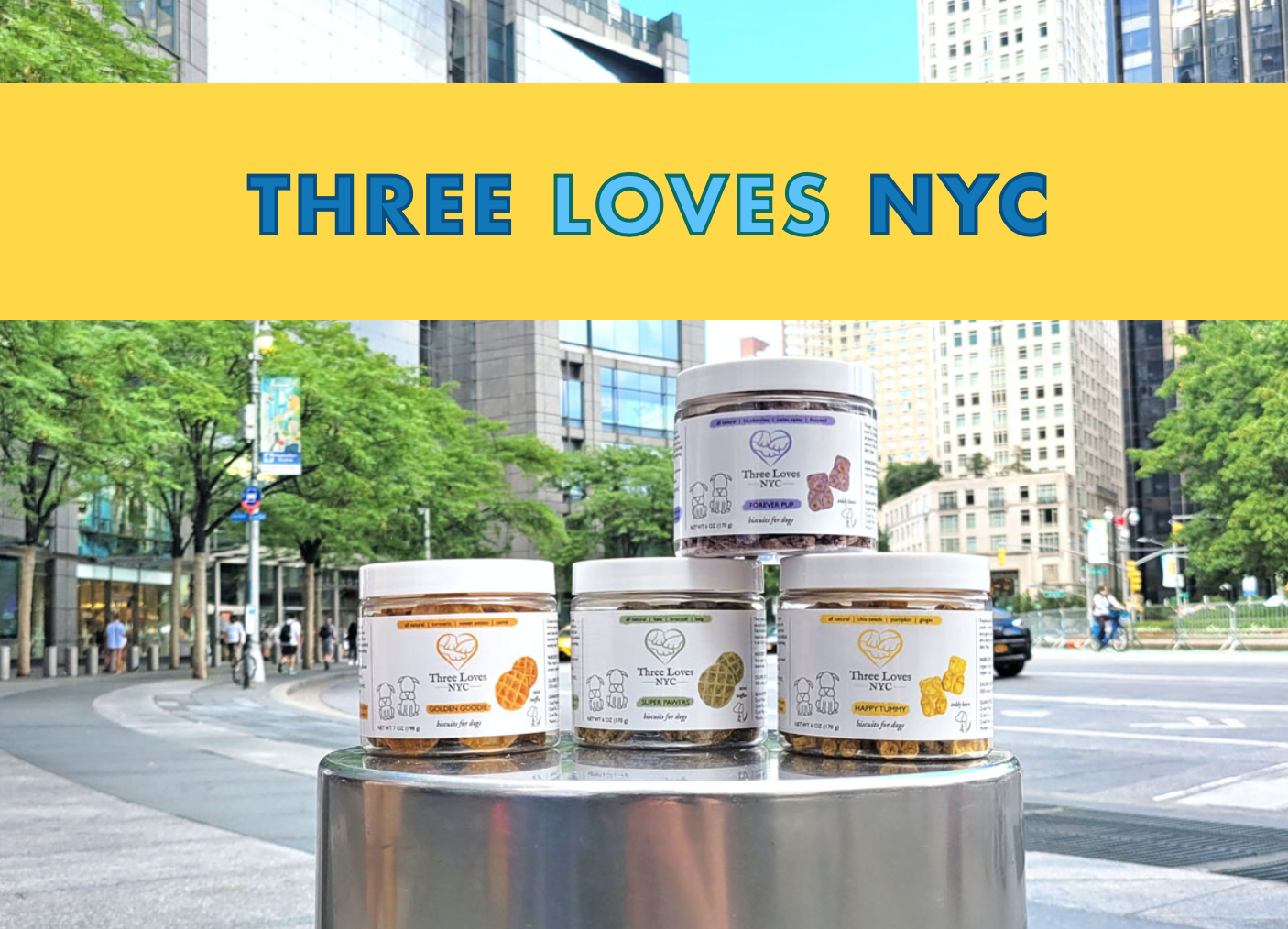 Quality Treats on a Mission. Three Loves NYC is a company that believes dogs of all ages need only the best. They make each and every treat meaningful with their thoughtfully formulated biscuits, strict use of only the best organic ingredients, and emphasis on functional feeding through quality.
New Product Spotlight: Three Loves NYC
This NYC-based confectioner is on a mission to provide the best treats possible for all dogs out there. There should be no difference in quality between what we eat and what we feed our pups. Each ingredient is purposely selected for its nutritional and superfood qualities.
Their Story
Once upon a time, there were two boxers and a beagle. Lexy was fearless and curious. Ellie would jump three feet at the slightest noise. Elmo did and still does try to eat anything that can fit in his mouth. When Lexy was diagnosed with a brain tumor at 12, we scoured all sources for holistic ways to fight it and found them to be the superfoods already in our pantry. We integrated them into her diet, giving her 18 more months since the diagnosis. Just when we thought our troubles were behind us, Ellie's spleen ruptured from a tumor at the young age of 8 and she unexpectedly left us from surgery complications. We didn't have a chance to act.  This made us realize healthy diets should be for the entire lifetime of dogs. Every bite they take is a chance to eat something great that could keep them well.
Only Organic
Every ingredient in Three Loves NYC recipes is sourced only from their partners who are USDA Certified Organic. They pride themselves in using only human-grade, 100% organic ingredients. They are settled in their convictions to never settling for anything less so you can rest assured that these treats are of the highest quality! There's nothing artificial or unnatural in these biscuits.
That means
no yucky preservatives, no fillers and no additives
. 
The Formulas