Dr. Harvey's Oracle is a complete "just add water" dog food made with the highest quality blend of fresh meat, vegetables, fruits, vitamins, minerals, and other essential nutrients. This food is ideal for supporting the development and maintenance of healthy skin, bones, eyesight, digestion, kidney functioning and more.
Ingredients: Beef, Sweet Potatoes, Carrots, Potatoes, Flax Seed, Whole Egg, Pumpkin, Broccoli, Tricalcium Phosphate, Green Beans, Spinach, Beets, Cabbage, Celery, Kelp, Coconut, Apples, Cranberries, Parsley, Dried Yeast, Lecithin, Alfalfa, Fenugreek, Fennel, Ginger, Peppermint, Zinc Proteinate, Iron Proteinate, Vitamin E Supplement, Manganese Proteinate, Vitamin A Acetate, d-Calcium Pantothenate, Thiamine Mononitrate, Pyridoxine Hydrochloride, Riboflavin Supplement, Biotin, Vitamin B12 Supplement, Vitamin D3 Supplement, Folic Acid, Rosemary Extract, Mixed Tocopherols
Guaranteed Analysis: 
Contains minimum 27 percent crude protein, minimum 12 percent crude fat, maximum 6 percent crude fiber, maximum 9 percent moisture.
Feeding Instructions: Preparing a Homemade Meal for Your Dog in Just Minutes
Step 1 – Add Oracle to your dog's bowl.
Shake the bag to distribute food evenly. Measure the appropriate amount of dry food and add it to your dog's bowl.
Step 2 – Add hot water to Oracle.
Measure the appropriate amount of hot water (see adjacent chart) and add it to the dry food. Let sit for 10-15 minutes or until the food has absorbed the water and has the consistency of oatmeal. You can add more or less water to change the consistency depending on your dog's preference.
Step 3 – Watch a happy and healthy dog eat.
Serve at room temperature. Always make sure your companion dog has fresh, clean water to drink.
The following amounts are only general guidelines. Individual requirements will vary depending upon factors such as metabolism, daily activity, breed, health, genetics, and environment. You are the one that actually knows your dog, so you are in the best position to fine tune this general guideline.
Part of healthy feeding is monitoring your pup's weight. If your dog is too thin, feed more than the suggested amount. If your dog is overweight, feed less. When in doubt, remember that it's better to feed a little less than to overfeed your companion dog.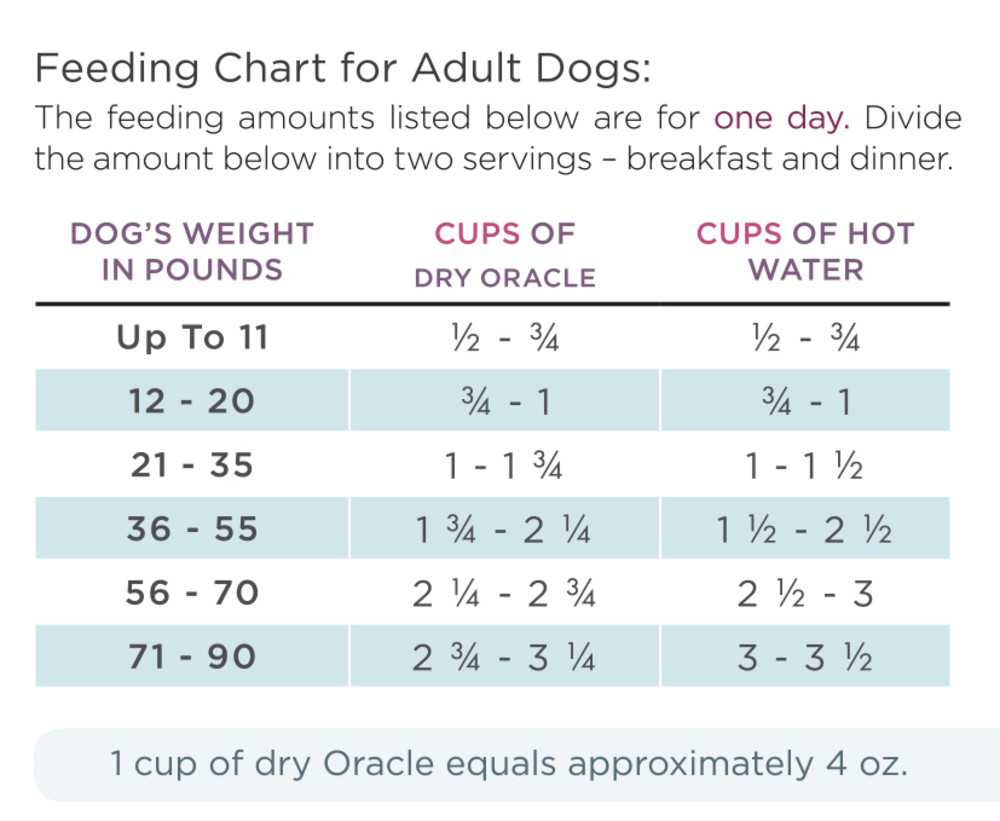 Made in the U.S.A.