Grandma Lucy's Valor™ is a bold food that has risen above the rest to bring pets a diet with only the top ingredients known to be some of the healthiest in the world. Quinoa is not a new food but actually a main staple of the ancient Inca diet. The United Nations termed 2013 the official International Year of Quinoa to celebrate this "SUPERFOOD" and all of its protein and nutrient rich characteristics.
What's In The Bag?
CHICKEN
Fresh chicken builds and maintains lean muscle. It's a high-quality, highly digestible protein without any added hormones, steroids or antibiotics.
QUINOA
Known for being a "superfood," quinoa is high in protein and essential amino acids. It is gluten-free and cholesterol-free with a high content of calcium, vitamins B, C and E.
LENTILS
Lentils, from the legume family, are a rich source of dietary fiber and folic acid. They have a low glycemic index allowing energy to be released slowly to the body helping maintain a consistent energy level.
CARROTS & CELERY
Fresh vegetables are included in this recipe to deliver Beta Carotene (Vitamin A), Potassium, Niacin and B vitamins right from the source.
CRANBERRIES & BLUEBERRIES
As natural sources of antioxidants like Vitamin C and E, cranberries and blueberries support your pet's immune system and help prevent urinary tract infections. Excellent sources of pectin, a soluable fiber associated with colon health.
APPLES
Full of naturally occurring vitamins, minerals and nutrients, apples promote a healthy heart.
FLAXSEED
A rich source of nutritious oils that help support healthy skin and a glossy coat.
BANANAS
Bananas are known as being one of the most popular fruits in the world for a reason. They contain essential nutrients benefiting the heart and digestion.
PUMPKIN
Pumpkin is low in saturated fat, sodium and cholesterol. It is also a good source of Vitamin E, magnesium, phosphorus and potassium and is also a very good source of dietary fiber.
Ingredients: USDA Chicken, Quinoa, Flax, Lentils, Carrots, Celery, Apples, Bananas, Blueberries, Cranberries, Pumpkin, Spinach, Garlic, Vitamin A, Vitamin D3, Vitamin E, Niacin, Iron, Calcium, Phosphorus, Zinc, Riboflavin, Thiamin, Potassium, Manganese, Chloride, Copper, Magnesium, Pyridoxine, Cyanocobalamin
Guaranteed Analysis: 
Crude Protein (min): 30%
Crude Fat (min): 16%
Crude Fiber (max): 5%
Moisture (max): 8%
Calcium (min): 1%
Phosphorus (max): 0.48%
Magnesium (max): 0.17%
Directions:
Step 1: For each cup of Valor™ Chicken add 1 – 1 1/2 cups of warm water. The suggested daily amounts should be adjusted to suit your own dog's unique nutritional requirements and appetite, which may vary according to age and level of activity. Keep fresh water available at all times.
Step 2: Stir well and rehydrate for 3 minutes.
Step 3: After 3 minutes, food may be consumed. Leftover food may be refrigerated for up to 48 hours.
Grandma Lucy's Valor™ is formulated to meet the nutritional levels established by the AAFCO Dog Food Nutrient Profiles for All Life Stages.
Feeding Guide: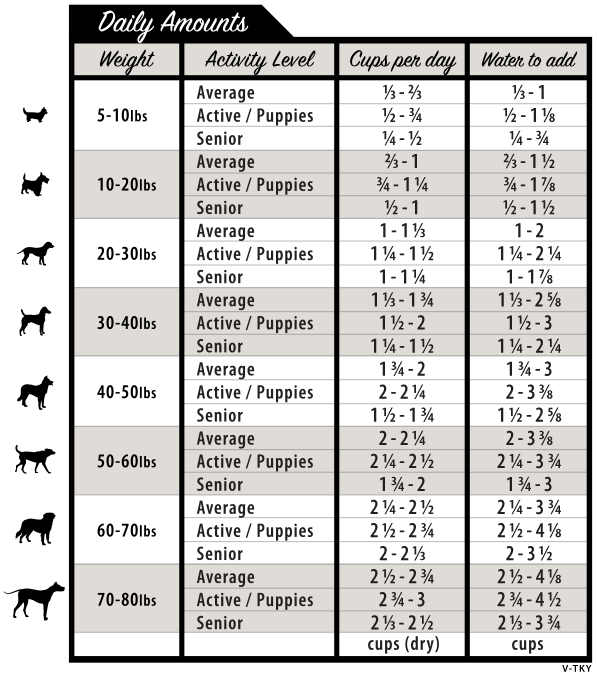 Made in the U.S.A.